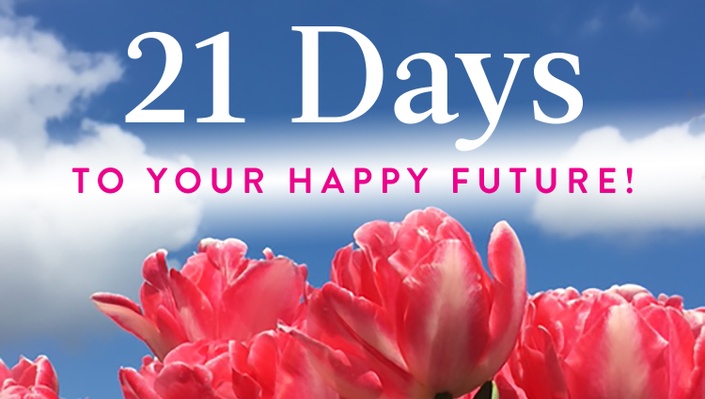 21 Days to Your Happy Future
Daily exercises to brighten your life during divorce and separation so you can create a new life you love!
If you're going through a divorce or breakup, you may be feeling a little ... bleak. You may be dealing with low energy, contending with turbulent emotions, and asking yourself,
"Will I ever be happy again?"

The answer to that question depends entirely on you.
The choices you make right now, in the midst of chaos and confusion, will set the stage for your future. Taking simple, practical, action to generate feelings of happiness and empowerment and claim moments of joy right now will create habits that multiply those things in the months and years to come. Each time you take positive action, you move yourself one step closer to your happy future.

On the other hand, doing nothing will cause nothing to happen.

Let's be honest: you don't want to be mired in the drama and hurt feelings of your separation a year from now, or even a month from now! You want to get your feet on the road to a future that feels bright and amazing, not keep looking at a past that no longer exists. So, it's time to face forward, put on your big-girl (or boy) pants, and take a new approach!
21 Days to Your Happy Future
You know that you want a happy future ... but what can you do today to actually create it?

The answer is: take a baby step forward. And that's what this course is all about.

In this course, you'll learn how practical action, mindfully applied, can help you disconnect from your old life; generate positive feelings like happiness, contentment, and empowerment; and add sprinkles of light to your days even in the middle of your separation. You'll learn how to tweak your environment to support your energy level, how to create a "Winning Team" of friends, family, and professionals to support you through your separation, and how you can change your focus and keep moving forward toward your happy future no matter what your ex does or says.

So if you're ready to start living the happy future you want, not the old life you no longer have, please join me for this 21-day journey!

Your Instructor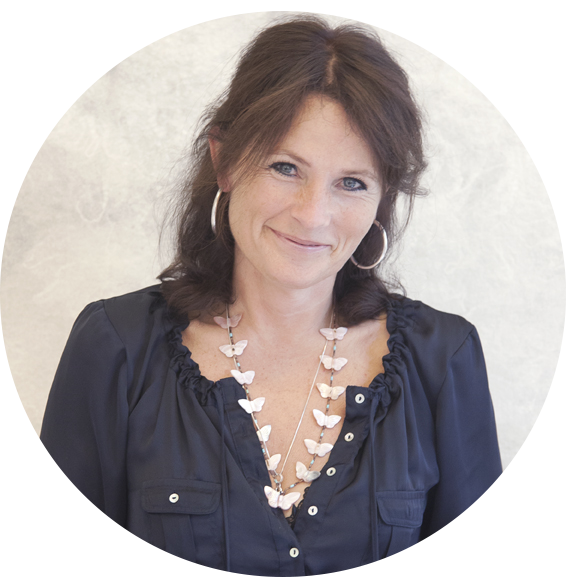 Hello! I'm Eveline Jurry, creator of the Positive Separation Method™ and an expert in applying practical action to create greater happiness and positivity in all areas of life.
The Positive Separation Method™ was born in the years following my own divorce. I knew I wanted to unravel myself from my old life in a positive way, but there was no handbook for the process, and no one to teach me what I needed to know to do this in a way that conserved energy and propelled me toward a new, happy life.
Four years later, happily engaged to my new partner, John, I decided to make it my mission to help and empower people in one of the most vulnerable times of their lives. Millions of people go through divorces, breakups, and separations every year. I knew there were many positive stories and tools available that could help others avoid the traps and pitfalls I experienced in my own quest for a positive separation, and I was determined to find the best and most direct path for those who wanted the same happy outcomes that I had created for myself.
I studied the topic of separation and divorce for three years. I spoke to the most experienced and successful professionals, not only in The Netherlands, but also in greater Europe and America. I met with success and happiness gurus. I looked for the right combination of tools, stories and examples, and from these, I developed my Positive Separation Method: a clear path and empowering approach for navigating daily life during and after separation, with a happy future as a goal.
My Method can benefit everyone in separation, regardless of age, gender, economic status, religion, location, family structure, or other factors. It focuses solely on the individual using the Method, so it doesn't require the participation of a partner. It is particularly beneficial to individuals with children, as I've discovered the best way to encourage healthy parenting is to get oneself back on track physically and psychologically as soon as possible.

How the Course Works
Charles Dederich said, "Today is the first day of the rest of your life!"

That's why, when you register for this course, your 21-day journey will start today!

Today, and each day for the next 21 days, you will receive a short module with some eye-opening information and one (or more) action steps. These are short, targeted actions, most of which you can do in just a few moments. These actions will shift your energy and get your mind thinking along happy paths, not traveling down the same old sad roads.

Once your 21 days are complete, you will be able to go back an access all 21 days of material forever - so you can repeat the exercises as many times as you like, and keep track of your progress toward your happy future!

Check out the daily topics below ...

Course Curriculum
Introduction
Available in days
days after you enroll
Day 1
Available in days
days after you enroll
Day 2
Available in days
days after you enroll
Frequently Asked Questions
When does the course start and finish?
The course starts now and runs for 21 days. After day 21, you'll have lifetime access to all of the daily prompts and exercises, so you can go back and work with them again (or redo the whole 21-day course!) at any time!
How does the course work?
When you enroll, you'll have immediate access to the Introduction module and Day 1 of the course. Then, every day for the next 20 days, your daily lessons will appear on your curriculum page. You'll also get an email reminder each day so you never miss an exercise!
How long do I have access to the course?
After enrolling, you have unlimited access to this course for as long as you like - across any and all devices you own.
What if I am unhappy with the course?
We would never want you to be unhappy! If you are unsatisfied with your purchase, contact us in the first 30 days and we will give you a full refund.
Remember, you are the only one who can create your happy future - but you don't have to do it alone! I'm honored and excited to walk with you as you build your new life and create your vision. I know the simple actions in this course will set your feet on the path to happiness and fulfillment - so join me, and dedicate the next 21 days to YOU!

With love, hope, and joy for your new future,
Eveline